Charles A. Stallard suffered from hypoxia at birth in 1945. The damage to his brain caused him to have difficulties with speech, binocularity, auditory and visual perception as well as fine & gross-motor coordination. At that time, there were no facilities in the Rio Grande Valley offering treatment for children with developmental delays. Enter Mariellen Stallard Staley, Charles' loving and devoted mother.
In 1951, Mrs. Staley set out to solve a problem. She invited a select group of community leaders to a meeting at which she proposed establishing a non-profit treatment center, and her idea was met with great enthusiasm. The facility known today as Moody Clinic was created and has proudly served the children of our community for more than 70 years.
To honor Charles Stallard and further his mother's achievements, we've established the Charles' Legacy Scholarship Fund. Made available by the generosity of our community donors, these monies allow patients with financial difficulties to apply to receive necessary therapy services at no cost during the duration of the scholarship period.
In 2023, our first two scholarhips were awarded to Matteo and Theo, two very special and deserving boys. This financial relief has been a blessing to their families and has enabled them to focus on rehabilitation, not expenses.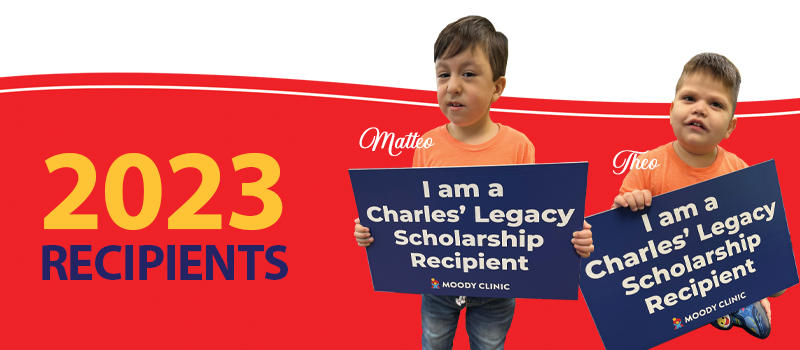 ​